WELCOME TO PINE VILLAGE
Pine Village is privately owned by the Nestlerode Family and is a gated and secure vacation property. Dan and Mary Jo reside in the The Barn and manage the two Pine Village rentals. The Breezeway Cabin sleeps 4 people and the Bear Lodge sleeps 14. The Bear Lodge has become extremely popular, so much that little time is available for 2021. If you are interested in staying at the Lodge, please plan ahead and call Pine Village to get on the waiting list. Check the on-line calendar for availability.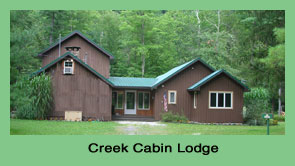 Pine Village is located along Little Pine Creek, just one and a half miles from the village of Waterville. Its 25 acres along the Creek offers three-eighths of a mile of waterfront. Privacy and open space are the 2 amenities enjoyed by families and friends who have stayed with us. Children have space to play and adults have peace and quiet for relaxation. Observing wildlife is easy. It is not uncommon to see deer, eagles, blue herons, songbirds and an occasional bear. Summertime brings a special treat to watch the dozens of hummingbirds feeding at the Creek Cabin.
Satellite TV and Wifi are available Wifi phone calling works great.
Things prohibited on Pine Village property:The use of 4 wheelers and other unlicensed motorized vehicles, shooting of firearms, including BB guns.
Penn State, Williamsport and The Pennsylvania Grand Canyon area are less than an hour away—stay with us and take in many sports and entertainment activities.
Thanks for visiting our website.
We hope you come to visit us at Pine Village!